Have BreAnna sing or play the singing bowls at your next event! Contact her to discuss availability and fees.

BYC at Hahn Garden
Yuletide Yoga & Sound
December 10 | 2-3:30 p.m.

Unwind, rest, and reset with a gentle yoga flow led by Erin Doty accompanied by the therapeutic sounds of BreAnna Martin playing Tibetan & Crystal Singing bowls, Hulusi, Gong, drums, tuning forks, signing, and more.  Class is held indoors, along with plenty of HK blankets on hand to stay cozy.
Gift yourself some serenity this holiday season with Yuletide Yoga & Sound. 

Location: Hahn Horticulture Garden, 200 N Garden Lane, Blacksburg. Located on VT campus. Suggested donation $15.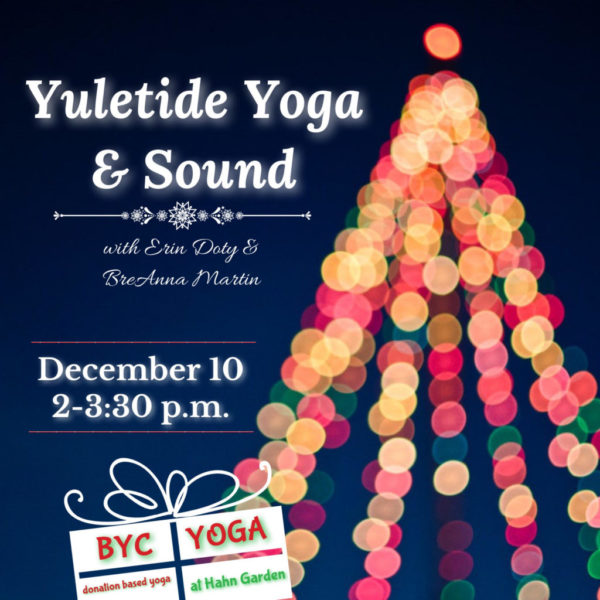 Sunday | July 16 | 2-3 p.m.
Expand your presence and nourish your being with the healing sounds of Tibetan and crystal singing bowls, tuning forks, gong, and BreAnna's lyrical voice, accompanied by a rose quartz and selenite guided mediation led by Erin Doty to foster deep self-love. 
Enjoy a 1 hour sound immersion that entrains the brain waves into a meditative state, along with a gemstone meditation to center the body deeply into peaceful and loving presence. The gong creates ripples of sound to cleanse the subconscious mind and recalibrate the parasympathetic nervous response. Delight in therapeutic gemstone and sound serenity to reduce stress, boost immunity, and restore the natural frequencies of the body.
*HK High Kicks Yoga & Wellness @ VTCRC
1800 Kraft Dr., Suite 111, Blacksburg, VA*
*$20 Register by July 10 | $25 at door.  Contact HK to register.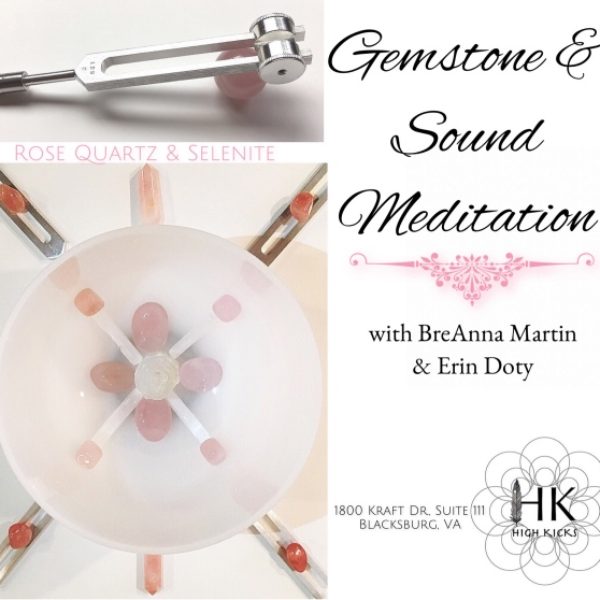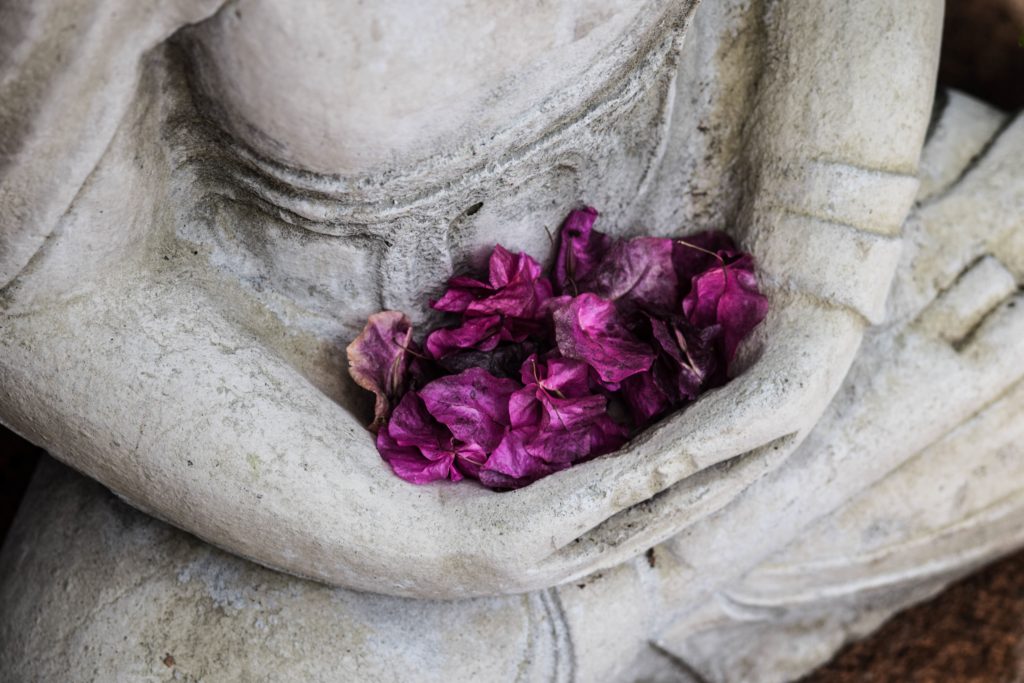 Yoga & Sound Immersion
HK@VTCRC & BYC present Yoga & Sound Immersion
~with Erin Doty & BreAnna Martin
Wednesday, January 25th ~ 5:30-6:30 p.m.  
Yoga & Sound Immersion.  Allow the healing sounds of quartz and Tibetan singing bowls to inspire your 2017 intentions!  Yoga flow includes twists & positive mantras; led by Erin Doty to help boost your 2017 intentions with positivity.

*HK High Kicks Yoga & Wellness @ VTCRC
1800 Kraft Dr., Suite 111, Blacksburg, VA*
$5-10 suggested donation
Open to all levels. Mats & props provided. Arrive with an empty belly, open mind, & heart. Silence cell phones, please.